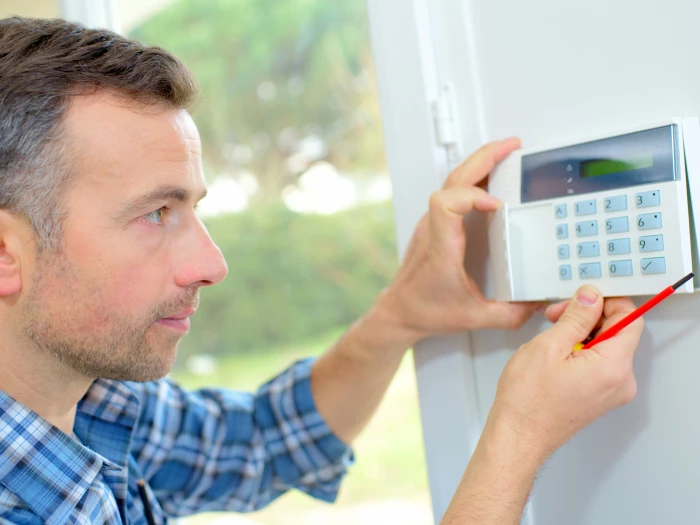 Security alarms for the Chester area
EPG Security Systems are highly experienced security alarm installers familiar with all the latest alarm systems for homes and businesses. We are an NSI Gold accredited company offering comprehensive burglar alarm and fire detection installations for commercial and domestic properties throughout the Chester area. Following a free survey of your security requirements, our experts will advise on how best to protect your property and offer to design a burglar alarm system that meets your specific needs and the strict demands of all insurance companies.
We install security systems using the latest security products and with unrivalled technological know-how to give our Chester customers complete peace of mind. Our emergency alarm call-out team operates 24/7 to repair broken alarm systems in the Chester area, even those installed by other firms.
---
Call
01270 666366
for a free security assessment anywhere in Chester.
---
Smart alarm installation for Chester
We can install and configure smart alarm networks for homes, offices and businesses throughout Chester and the surrounding area. Smart systems can be configured and operated remotely from a smartphone, tablet, laptop or desk computer, giving you complete real-time control over your security network. With such a wide range of flexible options, smart security systems can meet all your security needs, domestic or commercial and protect your property against intruders day and night.
Security networks can include smart burglar alarm systems, CCTV installations, automated lighting, hazard detectors, access control, video surveillance and more. Our security-vetted staff can help you with optimum sensor and camera placement and provide regular maintenance and troubleshooting services to ensure your Chester security system is always working at its optimum level.
Property crime levels in Chester
Crime levels for burglary and criminal damage remain a significant problem for many communities, including the Chester City and Cheshire West area. Crime figures from UKCrimeStats reveal the latest incidents of burglary and property damage daily in the Chester and Cheshire West area.
They make Chesterthe third safest major town in Cheshire, with an overall crime rate of 86 incidents per 1,000 people. This is worse than Cheshire County's average crime rate of 72 per 1,000. Click here for details of crime rates in Chester.
Security for Chester homeowners
Smart home security alarms are easy enough to install but require professional oversight to ensure they are correctly configured for optimal effectiveness. Chester homeowners who suffer a break-in can lose more than valuables. The shock of a burglary can trigger insecurity and alarm at feeling vulnerable at home. There is also the pain of clearing up any damage or mess caused by intruders and the extra cost of changing locks on doors and windows. PoliceUK warns that those who fail to take adequate security measures are up to five times more likely to be targeted by burglars. Even the most elementary of security measures will help, such as:
Locking all doors and windows when away from home.
Keeping keys in a safe place away from intruders' eyes.
Fitting a burglar alarm system using an accredited installer.
Security for Chester businesses
Chester businesses have the added burden of disruption to the daily routine, lost or late orders resulting from the break-in and dealing with staff valuables or personal items that may have gone missing. Crime prevention offices advise businesses to install and maintain a full security policy to cover physical security and cybercrime. Firms should monitor their security measures and check alarm systems, cameras, and access control systems. Cheshire East Council's crime prevention unit offers similar advice to householders and business owners.
More Chester security services include:
CCTV camera surveillance
Access control systems
Automatic gates and barriers
Fire alarm systems
Security patrols
Remote monitoring
Emergency callouts