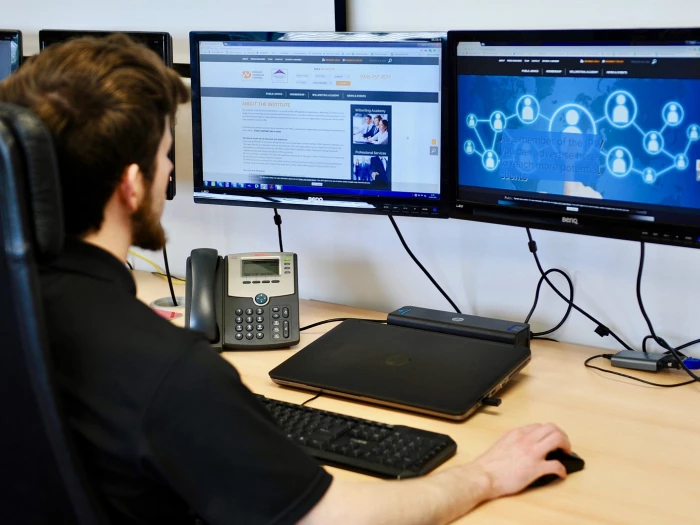 Security services for the Cheshire area
EPG Security Systems Ltd is an NSI Gold accredited company offering top-quality burglar alarm and fire detection installations across Cheshire.
We supply, fit and maintain home and business security networks to the highest protection standards.
Our security systems are fitted and maintained using the latest security products and unrivalled technological know-how to give our Cheshire customers complete peace of mind.
Security installations from EPG cover a wide range, including burglar alarms, fire alarms, CCTV surveillance networks, door and gate access control, security lighting, perimeter fencing, security guards and more.
A quick-response emergency call-out service is available 24/7 to fix broken alarms across Cheshire, including installations fitted by other companies.
---
Ring
01270 666366
for FREE advice on a security system for your Cheshire home or business.
---
Smart security for Cheshire
We install the latest high-tech smart alarm systems for Cheshire homes, offices and businesses.
Our smart security systems are configured to meet your complete security needs and protect your property against intruders day and night.
A single, easy-to-use app puts you in complete control of your security network even when you are away from the premises.
Our fully qualified security and alarm experts can assess your home, office or business to help you decide on the best products and services to meet your needs.
Security solutions include burglar alarms and CCTV installations, automated lighting, hazard detectors, fire detection or controlled access.
Our security-vetted staff can suggest the best position for sensors and cameras, with regular maintenance and troubleshooting options to ensure your security system is installed correctly and optimally.
Cheshire customers get complete peace of mind thanks to intelligent, automated cloud and smartphone services with immediate alerts on mobile devices.
Crime level in Cheshire
Incidents of crime and damage to property occur every day across Cheshire West and Cheshire East. UK crime statistics show burglary and criminal damage declining in recent years, but property crime remains a significant problem.
*The overall crime rate in Cheshire is 72 per 1,000 people placing it mid-table among all the counties in Britain. Among Cheshire's larger towns and cities, Northwich has the highest crime rate, followed by Winsford and Crewe. Check here for the latest burglary crime statistics for Cheshire.
Home security advice
Home security alarms have never been easier to install, but they require professional oversight to ensure they are correctly configured and installed for optimal effectiveness.
Homeowners who have been burgled often report a profound and troubling sense of intrusion and no longer feel safe in their homes. PoliceUK warns homes without some sort of security system are five times more likely to suffer a break-in. Safety measures they suggest include:
Lock all doors and windows before leaving the house
Keep all keys out of sight and away from the letterbox
Install and maintain a sound burglar alarm system.
Cheshire East Council's crime prevention unit has similar security tips:
Keep all sheds and garages locked at all times.
Install a security alarm: it's inexpensive and can deter undesirables.
Fit a safety light in the front garden of the house.
Security for business
Businesses in Cheshire face various issues around keeping their property and goods secure.
Break-ins: When intruders forcibly enter is a significant security risk but businesses and often leads to theft, damage and even violence
Vandalism: Property damage can lead to costly repairs and lost productivity even with adequate insurance cover.
Trespass: Unwanted intruders result in theft or vandalism unless business owners take measures to ensure adequate access control
Crime prevention officials advise businesses to implement and maintain a comprehensive security policy on physical security, cybercrime and employee training. Firms should monitor their security systems regularly, checking alarm systems, security cameras and access control measures.
Police recommend that, as a minimum, property owners have burglar alarms fitted by an installer affiliated with an accredited board such as the National Security Inspectorate (NSI).
More Cheshire security services include:
CCTV camera surveillance
Access control systems
Automatic gates and barriers
Fire alarm systems
Security patrols
Remote monitoring
Emergency callouts