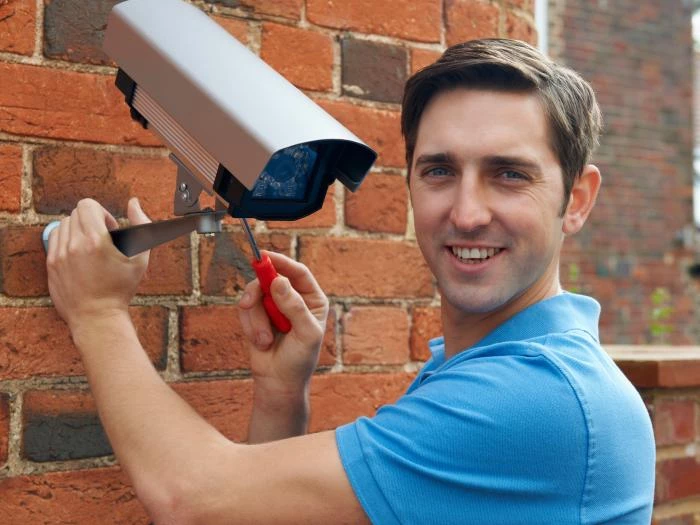 CCTV installers for the Cheshire area
If you are thinking of installing a CCTV system for your Cheshire home or business, it makes sense to talk to the experts first.
We have a team of experienced Cheshire CCTV experts who can help you design and erect a comprehensive and cost-effective CCTV camera network.
We offer free advice on the design, installation and maintenance of CCTV coverage for your home or business.
We can help you protect your home and property with a custom-designed CCTV camera system or carry out repairs, upgrades or extensions to existing camera security networks throughout Cheshire.
---
For a no-obligation quote, ring our head office number
01270 666366
at any time.
---
Security camera use in Cheshire
Annual burglary figures for Cheshire West and Cheshire East are well over 3,000, more than double that for criminal damage or arson. CCTV cameras are known to be effective in deterring crime and in helping prosecute offenders. But there is little evidence that CCTV cameras on their own can cut burglary rates or stop intruders from gaining access to a property. Security lighting and sturdy locks can prove most useful when combined with other measures such as burglar alarms.
Advice on CCTV installation
Cheshire Police has advice on how and where to install CCTV systems to help prevent and detect crime. And telling the police that you have CCTV security cameras in operation can help the fight against crime and aid any police investigations, as well as ensure that officers can make the best use of the installed technology.
Cheshire businesses, in particular, can benefit from police advice on how and where to install CCTV security cameras. The guidance includes siting cameras at the entrance and exit points in such a way as to capture full facial images, making sure visual areas are well-lit without any backlight glare and training staff on operating camera systems and capturing high-definition images.
Owners of high-risk businesses such as city centre shops should also consider talking to local crime partnership organisations and linking CCTV cameras to a control room to enable trained professional operations to track offenders.
Factors to consider
Other factors to consider in a CCTV security system installation are:
Image Quality: Are the captured pictures good enough?
Image Storage: Are the collected images stored appropriately?
Image Export: Can the data be easily exported from the CCTV system?
Image Playback: Can authorised personnel easily view the pictures?
More uses for CCTV in Cheshire
Although CCTV is used primarily for crime prevention and detection, there are many other uses for a security camera network, both in the home and for businesses. At home, cameras can monitor children and pets to make sure that they are safe, while sensitive areas such as garages and workshops can be controlled through surveillance cameras. CCTV can monitor personnel and vehicles' comings and goings in offices and the workplace. This can be particularly useful when cameras link to door entry access systems.
In Cheshire East, for example, the local authority's central control room was set up in 2011 and now provides continuous monitoring for 365 days per year in 14 towns across the borough. The council has over 150 street cameras and over 90 in public car parks. A CCTV scheme can be run in partnership with local businesses, primarily shops, bars, pubs and clubs. Member companies are linked directly with the CCTV control room via a shop or pub watch radio. Several schools in Cheshire have security cameras installed to monitor students as they go about the campus. One of the most common uses of CCTV camera systems is alongside security gate and barrier installations to monitor activity at entrance and exit gates to ensure legitimate access and to avoid congestion.
More Cheshire security services include:
Intruder alarms
Access control systems
Automatic gates and barriers
Fire alarm systems
Security patrols
Remote monitoring
Emergency callouts