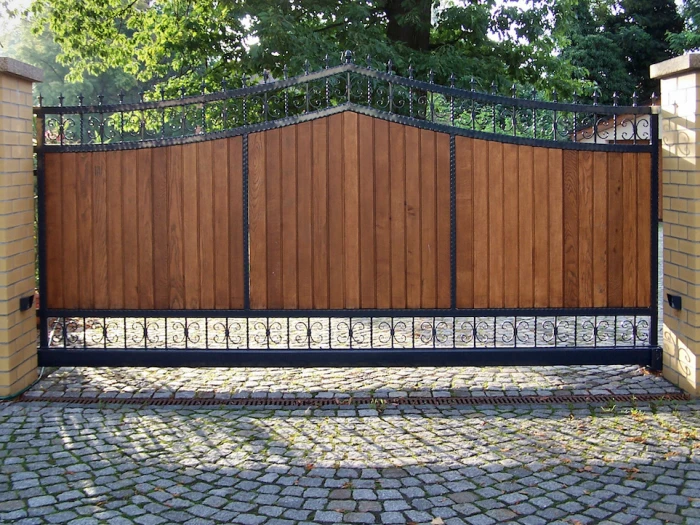 Security gates are ideal for owners wishing to control secured area access. There are many gate types on the market, and choosing the best one is often a job for a professional. An expert is best equipped to select the type of barrier that will meet your full security needs.
Automatic gates are found where vehicles can enter and exit a secure facility, and electronic security gates control access for vehicles entering and leaving the site.
Typical places to install automatic security gates are at the main entrance to a factory or office, a staff car park or a storage loading and unloading area.
All vehicles entering and exiting the site can be required to use an automatic gate. Security gates may also be used inside a facility to protect certain areas. It is common to see electronic gates used to separate private parking areas from public car parks.
Types of automatic security gate
There are six basic types of automatic gates, and each type may employ one of several operation and control systems. Most commercial gates are part of a secure perimeter fencing system. The operating system is usually electrically powered, and the opening and closing mechanisms are chain-driven or hydraulic. These are the main types of gates on the market, and here we offer an overview of their primary applications.
Barrier Arm Gate
Barrier arm gates are often used in car parks. A single barrier arm lifts to allow vehicles to pass through and drops again to prevent access. Pedestrians can easily pass under or over the barrier, so this automatic gate offers almost no security against pedestrian access.
Slide Gate
This automatic security gate type is for light-duty work on commercial premises. Sometimes called a 'rolling gate', it rides along a metal track across the entrance. The slide gate is usually mounted parallel to the fence or wall and slides horizontally across the gate opening. Automatic slide gates do have a relatively high maintenance overhead. Outdoor debris can accumulate on the track, so the rollers need to be well-lubricated.
Swing Gate
Swing Gates hinge on one edge and open like a door, frequently traversing a 90° arc from the open and closed positions. Swing Gates may be a single or double leaf, and they can swing outwards or inwards. This type of security gate is found in domestic and residential areas thanks to the low cost, ease of installation and relatively low maintenance. The swinging gate usually has additional safety features to prevent cars from being accidentally hit or people getting trapped.
Lift Gate
Lift Gates move up and down vertically over the gate opening. Perfect for narrow entrances, they need structures on each side to provide support. Vertical lift gates are known to be efficient and reliable but do not have much aesthetic appeal.
Pivot Gate
These liftgates rotate upwards, providing some of the benefits of a standard liftgate without needing high vertical support. However, pivot gates need more space and require higher maintenance. Costs rise in cases where a spring mechanism is used instead of a counterweight to help pivot the structure.
Cantilever Gate
Like the lift gate, the cantilever gate is for heavy-duty industrial gate applications. The gate slides across the opening but, instead of using ground rollers, it runs on rails. More reliable than slide gates, they do require broad fence sections to support the rail mechanism that often operates as a counterbalance.
Folding Gate
Folding gate leaves are hinged together and fold back on themselves to allow access. These gates may come in pairs on each side of the opening and usually have a track along the top or bottom. Folding gates are an excellent choice when space is limited and can open and close quickly. However, they do come with a maintenance overhead. Extra safety features are needed to prevent people from getting trapped when using them.
Automatic gate control systems
Automatic security gates operate through access control devices such as card readers, vehicle tag readers, digital keypads, and wireless transmitters. In many commercial security gate installations, the same access control system used to control entrance doors to the buildings is used to manage the automatic gate system with the access card used for both.
Intercom systems: Intercom stations at automatic gates allow visitors to contact someone to open the barrier and allow access. The entrance is opened remotely once the visitor's identity is verified.
Video camera systems Video cameras can view and record any activity at the security gate. They are often used with an intercom system to confirm visitor identity before opening.
Free exit devices In many cases, vehicles need only to be verified to allow exit at any time. Tools that enable free passage include loop detectors, photoelectric beams, and pressure switches.
Special access Services such as utility companies and postal delivery vans often need easy access to premises, and using key-operated switches accomplishes this. Emergency services such as fire, ambulance and police may need to gain access at all times. Devices to facilitate this can include key boxes, strobe or siren-activated sensors or radio receivers activated by the emergency vehicle.
Security gate safety issues
Automatic security gates can be hefty indeed and can travel at relatively high speeds with the potential to cause severe damage or injury to both property and people. Safety considerations must be taken into account when planning any automatic gate installation. Guidelines for automatic gate safety are set out in the Underwriters Laboratories (UL) Standard 325. This standard defines classes of automatic gate operators and the techniques that should be employed to prevent entrapment and reduce the potential for injury. Gate safety measures may include warning signs, audible alerts, photoelectric sensors, contact sensors and other devices.
Choosing an automatic gate
There are many things to consider when selecting an electronic gate, and it is wise to get independent professional advice before ordering an installation. Here are just a few things to consider:
Opening width: The width of the entrance is a significant factor in deciding what type of automatic gate to use. While gate widths over 25 metres are possible, openings wider than 10 metres are more expensive and problematic.
Position: The space available on each side of the gate can limit the scope. Narrow entrances may restrict the options available for automatic gates.
Amount of use The number of times the gate will open and close is a significant factor in selecting an automatic gate operator. Systems designed for residential use will quickly cause problems at an industrial or commercial site.
Size: In general, the width and height of the gate will determine its weight, which may impact the type of control system required. Gate weight varies with the material used, such as steel, aluminium or wood. Remember to make an allowance for accumulations of snow, ice or debris on gate surfaces and mechanisms.
Speed: While slow opening speeds may be acceptable in a residential setting, they may be unacceptable in a commercial situation with high traffic volume. Gate size, weight, and type determine the attainable opening and closing speeds.
Construction: This can enormously affect the performance and reliability of automatic gate operations.
Location: A significant consideration is where the gate is installed. Generally, residential gate gates require more safety features than those in industrial environments. Most gates are designed for level ground, and special features are needed to operate on an incline.
Power: Light-duty gates can operate on standard electricity supplies, but some heavy-duty gate operators need more power.
Choosing an automatic gate is not a trivial task. Automatic barriers are tricky to install and require regular maintenance. Selecting a cheap electronic gate may save money in the short term, but maintenance and repair costs can soon add up.