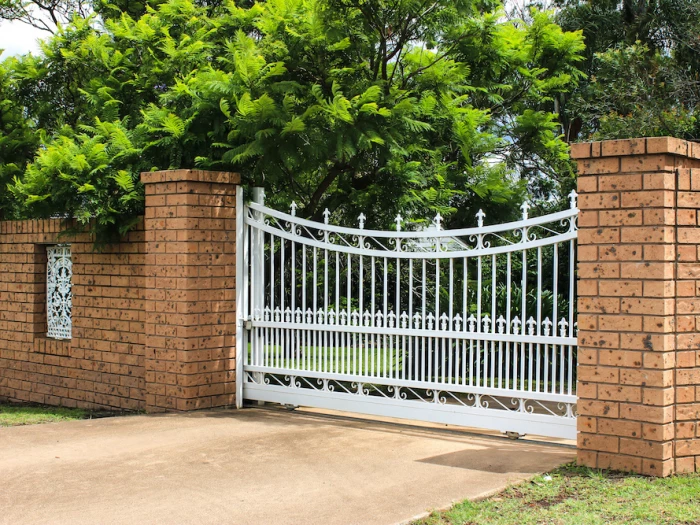 Many clients who contact EPG for security gate installation already know the type of gate they want to install. But they often have a rethink when our specialist staff take them through the options available – the different types of gates, the positioning, material and access controls.
The best solution to a security problem may include elements that clients may not even have considered, such as safety, usage, aesthetics or convenience for users and operators.
Not so many years ago, security gate installation was the preserve of the wealthy. Controlled automatic gates were expensive to buy and install and challenging to maintain. That is not the situation these days. New technologies and materials and advances in electronics make automatic gates a reasonably priced lifestyle product that will fit most pockets. That said, automatic gate installation is not trivial, and many questions must be answered before making any significant investment.
Are security gates an effective deterrent?
An automatic entrance will not put off a determined burglar, but it is a fact that most break-ins and thefts are 'opportunistic'. The mere presence of a barrier can be enough to deter a potential intruder as it makes access and exit all that more difficult. Gates also send out a message that the householder takes security seriously and, if an automatic gate is installed, there will probably be burglar alarms, CCTV cameras and other security devices to tackle later on. As well as providing a barrier to keep unwanted visitors out, gates can help prevent pets and young children from straying outside. This can be especially useful on properties situated near busy roads.
What are the advantages of automatic gates?
Human nature is such that manual gates are left open far more often than they are closed. Always closing a gate behind you can be a huge inconvenience, especially if you must get out of the car in bad weather. Automatic gates are usually operated remotely, so you remain inside your locked vehicle when entering or leaving, and they can close behind you after a pre-set time. Unlike many manual gates, automatic barriers can automatically lock when they close.
How are automatic gates powered?
A standard domestic power supply is perfectly up to powering an automatic barrier. The power supply system will need to be installed by a competent electrician to comply with all the regulations for this installation. When choosing a company to install your gates, it is good to check that they use their own electricians and don't subcontract the work. Emergency overrides will also be needed to allow the gates to operate manually in case of a power failure or accidental damage to the system.
How safe are electric gates to use?
Safety should be a top priority in any automatic gate installation. Automatic gates should always have a reliable safety system that prevents them from opening or closing unless the entrance is clear of obstacles, including people. Many gate systems use sets of photocells mounted on the gate posts so that the gate opens if this beam is broken. Others use extra photocells to prevent the gates from closing as someone walks through the arc of gate travel and an emergency stop button for added protection. Modern automated gate systems should never cause injury or damage, provided they are regularly maintained and tested by competent professionals.
The best control systems for automatic gates
There are so many to choose from; it's mainly a matter of personal taste. Electric gate control systems vary from manual keypads to voice-activated consoles. Many choose a simple key fob system which opens and closes the gate at the press of a button, while others prefer digital pads where you can tap in a personal code, another layer of security if the pad or fob gets misplaced or lost. Wired audio and visual intercoms are also available. More recent developments include GSM gate control systems linked to registered mobile phone numbers so users can simply 'phone' the gate to open it. Each method has advantages and drawbacks, and experts at Crown Securities can help you decide the best one for your needs.
Choosing between a swing or slide gate
The choice of swing or sliding gate very much depends on the situation. For swing gates, you will need to consider the arc of the swing, while sliding gates will need room on both sides for the sliding gate to fit. Other practical considerations are vehicle movement and waiting while the gate opens, how pedestrians can access the property, which safety features you wish to incorporate and where they can be placed. Swing gate usually uses linear ram motor arms to open and close the gate. They are relatively inexpensive and reliable. Others use underground motors, but they are more expensive to install as they must withstand very wet conditions and have a sound drainage system. Many sliding gate motors have cogs coupled to a toothed track fixed to the bottom of the gate. They need guide tracks or cantilevers to keep them on track, and the power required depends on the gate weight and length of travel.