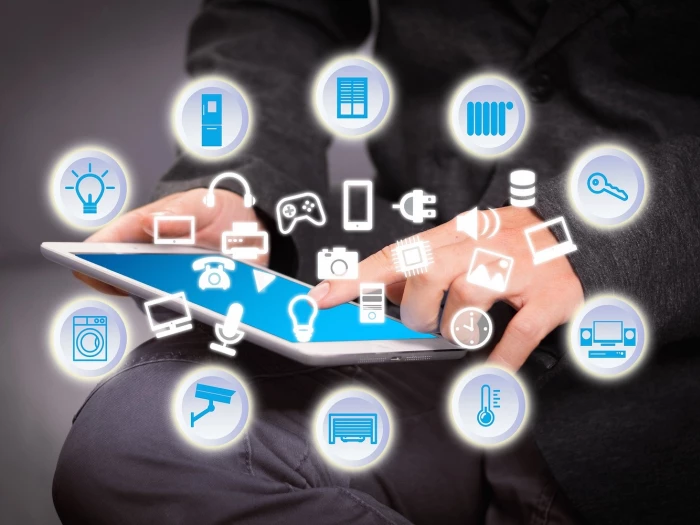 A smart burglar alarm is a wireless security system that connects different components through your WiFi network. Smart systems make installing and operating burglar alarms and other security devices easier than ever.
And the latest technological advances have pretty much revolutionised the security alarm industry, with no sign of slowing down the pace of change. Consumers are embracing new technologies, adopting new products and adapting to change with relative ease.
They provide advanced security features such as control over motion sensors, smart locks, video surveillance cameras, and remote access. They can be integrated with other smart devices to create a comprehensive security ecosystem and send instant notifications of a security breach, allowing for prompt action to be taken.
Advantages of smart alarms
Smart burglar alarm networks have many useful features. One of the most convenient is the ability to control the alarm system remotely from anywhere worldwide. All you need is a smartphone app enabling you to switch the alarm network on and off, receive alerts, and much more. Smart alarms allow the user to connect and control a variety of sensors, such as motion and heat detectors, door and window opening monitors and TV cameras.
Alarms can also be integrated with other smart home devices, such as lights, thermostats and sound systems, to give you a remarkable amount of control wherever you happen to be. Smart systems will also allow you to create customised operations from afar. For example, security lights can be triggered by a motion detector, doors closed, sprinklers activated in the event of a fire, etc.
People are now very aware of the potential of smartphones to automate gadgets in the home, office or factory. It covers everything from voice-activated home TVs to the time-sensitive locking down of secure areas of an office or other commercial premises.
Benefits of smart technology
Smart alarm systems are not only about detecting and deterring intruders. They allow you to control entry and exit from your domestic to commercial property at any time of the day. Systems can be programmed to deliver alerts and information on the moment of people in your home or office environment. This could help parents to know if a child has reached home safely or if an elderly relative is unwell. Office managers can track the movement of employees and when controlled areas have been accessed.
Smart technology and hackers
One of the biggest concerns with smart alarms is that they are open to hackers. The best suppliers of these devices update their systems constantly to guard against physical intruders and digital threats. Cloud-based operating systems can receive constant software and firmware patch updates to guard against cyber threats. Modern smart alarms can protect the property even if the internet connection is broken. Users won't get mobile alerts, but sensors and alarms will stay active. High-quality smart alarms will have secure, password-gated user interfaces that are very safe from theft or cloning.
Installations by experts
A simple, smart home security system can be set up in minutes with little or no technical knowledge, but more complex security networks will benefit from the input of experts. Unlike traditional methods, smart alarms aren't designed to be used in isolation. It is the integration with other smart home devices that releases their real power. For example, integrating intruder alarms, lighting, CCTV, and access control can give almost complete control over security. As soon as an alarm is triggered, users can check live camera football, lock doors and alert police or other monitoring services at the tap of a button.
Technical problems
Many technical problems can arise with hybrid systems. Suppliers may use open and proprietary wireless protocols. Open protocols are usually cheaper but may suffer from poor reliability, limited support for advanced features, and inadequate privacy protection. Proprietary wireless protocols, however, can limit you to a single supplier as systems will not be compatible with others on the market. These issues are beyond the scope of amateur installers, and you will need professional expert help to ensure the system is installed to its optimum effectiveness and operation efficiently.
Don't cut corners
Those seeking a quick home or workplace security solution will find many DIY smart alarms on the market. These "off-the-shelf" security systems may not be as reliable as they make out. Criminals are much more sophisticated these days and won't be deterred by cheap, plastic tech and will easily find ways to deactivate them.
There is little to be gained in cutting corners regarding property security and occupants' safety. Designing and installing a good security alarm system takes time, thought and experience. Such considerations as camera, sensor placement, and alarm activation are beyond the amateur. You should call a professional installer to ensure a reliable alarm system that realises its full potential. An expert can choose, design and install a smart alarm security system that keeps people and property safe. A reliable security installer can also offer a care package programme to keep your system up-to-date and in good working order.